Posted by
admin
on Aug 28, 2016 in
Antique Blades
,
Arbeit Adelt
,
Army Daggers
,
Cash buyers of militaria
,
Daggers
,
German Air Force Daggers
,
German Helmet
,
German Militaria
,
I buy ww2
,
Luftwaffe Dagger
,
N.P.E.A.Daggers
,
NPEA
|
0 comments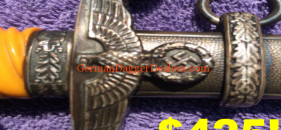 Why Sell To German dagger Dealers.com ? Firstly we pay your price! If we cannot pay a better price than you can achieve  elsewhere we will not get your business.  Why are we buying Nazi items ? We have a large retail shop in a busy location together with an impressive online presence 14 Websites ! Our store is in it's self an unofficial museum enjoyed by thousands of...