Legion Condor, Spanish Civil War 1936-1939,
WW II general decorations,
Decorations of the Wehrmacht Army,
Decorations of the Kriegsmarine,
Decorations of the Luftwaffe,
Foreign volunteers of the Wehrmacht,
German States pre- 1933: Orders and decorations,
German Reich 1871-1918 decorations,
Weimar Republic and Freikorps 1918 – 1933,
German medal bars pre- 1933,
Miniatures of Orders and decorations 1870 -1945,
Foreign Orders and decorations,
Plaques, non-portable medals and decorations,
membership badges and pins 1900 -1945,
III. Reich tinnies and rally badges, WHW,
Insignia of the Waffen-SS, Schutzstaffel,
Insignia of the NSDAP and Organisations
Insignia of III. Reich organisations,
Insignia of the Wehrmacht Army,
Insignia of the Kriegsmarine,
Insignia of the Luftwaffe,
Uniforms III. Reich and World War II,
III. Reich: visor hats, steel helmets, overseas caps,
Edged Weapons Germany 1870 – 1945,
Edged Weapons Foreign
The Nazis controlled the media and convinced millions of ordinary people that it was their duty to murder innocent Men women and children.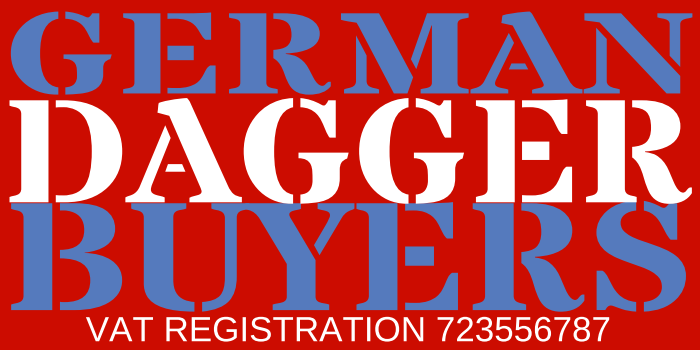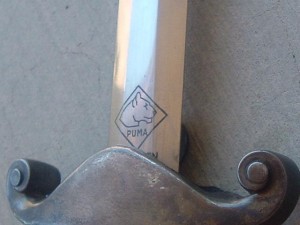 The innocent Jews of Europe suffered immeasurably .. So why is it important to preserve artefacts such as daggers ?. At GDD.com We believe humans have a duty to preserve everything which might allow us to understand the mechanism behind the atrocities of the Third Reich .

By bestowing a badge of office such as a ceremonial dagger to a receptive soul creates loyalty to the cause of the donner . To save future generations from repeating the folly of the Nazis we should retain evidence in the form of trophies such as Daggers At German Dagger Dealers.com .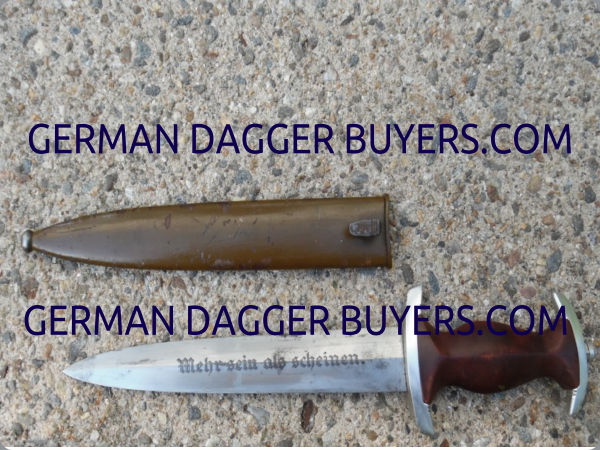 Our Buying Interests extend to BADGES, MEDALS,
ARMY TRADE AND SPECIALIST BADGES,
BREAST EAGLES,
WORLD WAR TWO AWARDS AND INSIGNIA,
WORLD WAR TWO GERMAN MEDALS,
WWTWO WOUND BADGES,
CLOTHING UNIFORMS & ACCESSORIES,
ARMBANDS CUFFBANDS.
BUTTONS THREAD ETC,
COLLAR PATCHES,
FOOTWEAR,
HEADGEAR,
LUFTWAFFE SHOULDER STRAPS,
WORLD WAR ONE BELTS AND BUCKLES ,
WORLD WAR ONE SHOULDER STRAPS,
GERMAN
HITLER YOUTH RELATED ITEMS,

LUFTSCHUTZ,
LUFTWAFFE AWARDS,
LUFTWAFFE EQUIPMENT,
PARTEIVERBAND,
REICHSARBEITSDIENST,
SS Insignia ,
THIRD REICH PERIOD BOOKS AND MAPS,
THIRD REICH WOMENS ORGANISATIONS,
VETERANS ORGANIZATIONS SOLDATENBUNDE,
WEHRMACHT FIELD RATIONS ,
WINTER HILF,
MAP READING INSTRUMENTS,
MILITARIA,
COMBAT EQUIPMENT,
Edged Weapons,
FLAGS,
LEATHER RESTORATION CARE ,
MEDICAL ITEMS,
MISCELLANEOUS,
ORGANISATION TODT,
PERSONAL EQUIPMENT,
PRINTED ITEMS PHOTOGRAPHS POSTCARDS,
SHOULDER BOARDS,
SMALL UNIT WEAPONS,
New Items,
PANZER ASSAULT BADGES,
PIONIER RELATED,
POLIZEI SD,
TOY SOLDIERS,
TUNICKS,
WORLD WAR ONE BUCKLES,
WW1
WORLD WAR ONE COMBAT EQUIPMENT,
WORLD WAR ONE PERSONAL EQUIPMENT,
WORLD WAR ONE PHOTOGRAPHS,
WW2
ORIGINAL WW TWO PHOTOGRAPHS,

WORLD WAR TWO BELTS AND BUCKLES