The Institution of the Government
Official dagger.
  
The Government Official dagger came into being in March 1939. The principle manufacturers being Carl Eickhorn and Alcosso.

  It was carried by officer level civil servants who were attached to Ministries and ranking staff of the foreign office.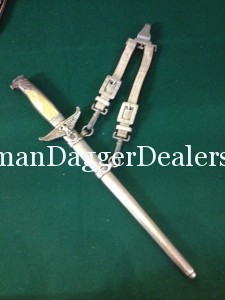 The dagger is almost identical in appearance to the Diplomatic dagger with only one exception. The beak of the eagle faces to the viewers left, whilst on the Diplomatic daggers the eagle's beak points to the right.
 The bold hanging straps are of grey – blue brocade having velvet backing aluminium facings and grey – blue edge strips. The buckles are rectangular having oak leaf decoration.
 Officially a small sized silver knot is hung tied from the feral  above the cross guard .Standard Army knots are however frequently encountered.
 By 1942 production had ended .
 Edited By David Mattey