£43,000/$65,000 PAID FOR THE ABOVE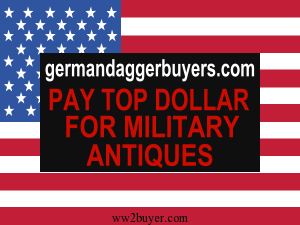 www.germandaggerdealers.com is the acquisions website for www.themilitariamarket.com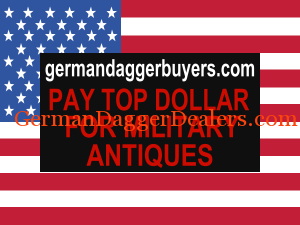 "IF WE CANNOT OFFER YOU A BETTER PRICE FOR YOUR COLLECTION THAN OBTAINED ELSEWHERE IT WILL BE A FIRST .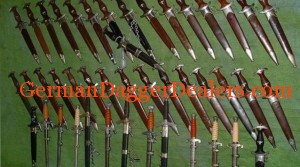 OUR POLICY OF BETTERING GENUINE OFFERS TO SECURE OUR POSITION WITHIN THE INDUSTRY HAS BEEN KEY TO OUR SUCCESS "
If you are looking for an informed offer/free valuation please complete the 
form in the next column →  →  →   →
German Dagger Dealers .com provide the ethical, legal service for those
wishing to sell Historic Edged Weapons and Third Reich Militaria.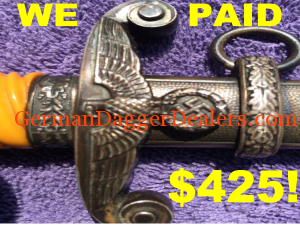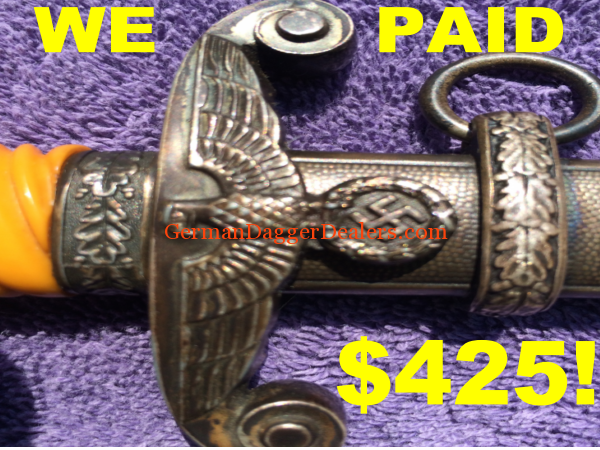 Our customers are vetted mature historians, investors and museums.
By selling to us you have our word that your war memorabilia is destined
for public and private display only.
We only sell face to face from our museum store or at trade shows.
Our exhibits are not peddled to juveniles.
Never would we supply Nazi items for any purpose other than that of educational study .
The movement of knives and daggers by international postal services is now highly restricted.
German Dagger Dealers.com wish to retain our good reputation. One achieved over time.
We welcome the opportunity of providing a second opinion and are on hand to answer questions
relating to all aspects of "Militaria".
Visit
www.themilitariamarket.com
the largest permanent trading center !
Specialist traders at The Militaria Market buy from Veteran's families, collectors and dealers worldwide, including the major advertisers on the internet  .The Militaria Market is a high end retail store buying for long term investment groups, Museums and some of the the more advanced collectors, For us the purchase price is less critical than for those in the oversubscribed online market place.
messages to ……………………………………………...davidmatteybuyer@gmail.com………………