The Nazi dress dagger was the prized iconic souvenir for veterans who served in the Europe during the second world war.

For the German officers who wore them, they were a symbol of status, rank and power.

Nazi Dress Daggers were not designed with combat in mind .  Nazi Dress Daggers served as an accessory to the uniforms of the German Officers .

The more common  Nazi Dress Daggers are primarily the; German Army Dagger ( Heer Dagger), The two models of the Luftwaffe Dagger ( Air Force Dagger), Navy Dagger (Kriegsmarine Dagger), and the Hitler Youth Dagger (HJ Dagger).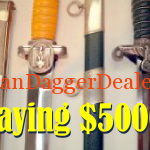 Scarcer and more avidly collected with a price tag to match is the SS Dagger.
These daggers are characterized by the black Ebony handle and black lacquered  sheath, with a round "SS" enamel roundel inset into the top of the handle,. SS Daggers require careful assessment in view of the history of reproduction and faking which has occurred since the end of WW2. Genuine period factory parts are frequently seen cobbled together with reproduction elements to produce spurious war trophies!