Posted by
admin
on Sep 5, 2016 in
Auktioniere
,
Bahnschutz
,
first pattern rlb
,
Guaranteed Genuine Militaria
,
Sell Military Collections
,
Selling weapons for cash
,
Spang for Iron Cross EK1
,
SS Dagger specialists
,
Third Reich Dagger Dealers
,
U.K.Deactivated Gun Dealers
,
Uncategorized
,
Visit our store
,
WAFFEN-LOESCHE
,
We Buy Medals
,
We Buy Navy Daggers
,
WW2 US American Buyer
|
0 comments
Why Sell To German dagger Dealers.com ?
Firstly we pay your price!
If we cannot pay a better price than you can achieve 
elsewhere we will not get your business. 
Why are we buying Nazi items ?
We have a large retail
shop
in a busy location
together with an impressive
online presence 14 Websites !
Our store is in it's self an unofficial
museum enjoyed by thousands of visitors .
All historical artifacts acquired by
German Dagger Dealers.com are for the consumption 
 of  a vetted circle of mature collectors,
ethical investment groups ,museums and  historians.
 artifacts are sold exclusively to
a carefully vetted buyers
many of whom we have
dealt with for the last ten years .
German dagger dealers.com entirely
 distance themselves from those who would supply 
Third Reich Symbols to
fuel Neo Nazi  ideological.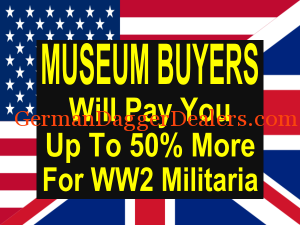 All items sold by german dagger dealers.com carry a standard 5 day  inspection period ,
starting the time the item is received by the purchaser.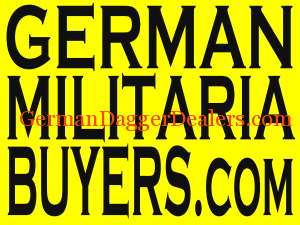 Buyers consider 5 days an agreeable time for a hands on inspection.
If within that 5 day  time frame you are not satisfied with your purchase, you may return the item for a refund (10% restocking fee and shipping if we covered the cost to ship), as long as the item is in the  condition it was in when it left us. For more details regarding our return policy, see the section below labeled, "Returns:".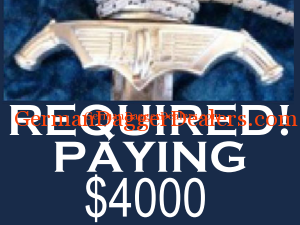 We take pride in the level of detail that goes into the descriptions and (more importantly) the photographs of each and every item we sell.

Due to the unique nature of wartime used items, each piece is going to have conditional elements that differ.

We do our best to point out all flaws, no matter how minor, but if you'd like additional information on an item, including additional or hi-resolution images, feel free to 
All items purchased from German Dagger Dealers.com are guaranteed to be pre-1945 unless noted in the item details.

We do not clean, buff, polish or otherwise alter the items we sell. All items are in the same condition as when they were received.

Since many of our items are direct veteran or veteran family purchases, many items are as they were at the end of the war. If we've modified an item in any way, for any reason, we disclose the modification in the item's description.


We believe that many historic items should be preserved in the condition they were in when returned from the war, unless preservation measures are necessary in order to maintain the integrity of the item (such is the case with paper and some leather items).
All items sold by germandaggerdealers.com carry a 5 day-hour inspection period (unless otherwise noted), beginning the moment the item is received by the purchaser. We've found that the majority of our buyers consider 5 days ample time for an in-hand inspection. If within that 5 day time frame you aren't satisfied with your purchase,for a return authorization.

Once the item has been received we'll issue a refund (minus a modest 10% restocking fee and shipping if we covered the cost to ship), as long as the item is in the exact condition it was in when it left our facility. We provide high quality photos and detailed descriptions of every item, and are happy to provide additional hi-resolution photos on request in order to avoid unexpected surprises when items are received. If there is evidence of tampering, disassembly, cleaning, buffing, or other modifications, the item will not be refunded and the item(s) will be returned back to you. We compare every returned item to the original hi-resolution images in our archive files so please take care to handle the item(s) properly once received.
You must notify us in advance, and within the  return window, for a return to be accepted —All returns shipping costs are at the buyers expense, and the package MUST be insured for the full purchase price, with signature confirmation.
German Dagger Dealers.com are happy  to sell (and buy from) our many international visitors. If you're outside the United Kingdom and interested in selling your item(s) to us, we'll first review photos of your item(s) to determine a price that is agreeable by both parties. We require the item(s) be shipped to our facility for inspection prior to payment. We will not assume any of the risk of damage or seizure by Customs or Postal officials, even if the package is insured. Once the item(s) have been received at our facility, our experts will hand inspect each item and if everything is approved payment will be made via PayPal.
If you're outside the United Kingdom, and interested in purchasing an item(s), you must  arrange payment and discuss shipping options (international buyers will not be able to use our website checkout system). We'll do everything we can to accommodate our international buyers, but we cannot assume any of the risk associated with international shipping, including (but not limited to) damage or seizure by Customs or Postal officials, lost packages, damaged packages, or any other circumstance where the package does not arrive at the shipping destination as expected, even if the package was insured. Please review and understand your local import, postal and shipping laws and regulations prior to ordering.