What is the best overal way of selling WW2 Militaria?
Who will pay more for militaria?
We pay in advance and cover
insured shipping costs.
We will Pay $10000 for exceptional German Helmets and frequently pay $1000 for regular examples.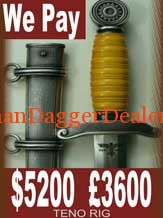 German Helmets Wanted.com have been up and running since 2009.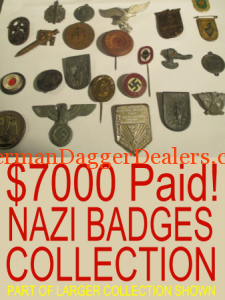 We operate from a large nineteenth century warehouse, one which stands beside the historic Arundel Castle, a major tourist attraction in Sussex.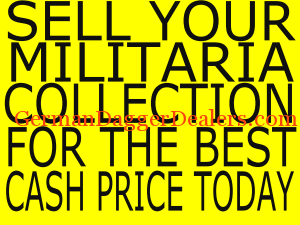 We frequently buy from collectors in the U.S.A.However
Our real passion is acquiring souvenirs directly from the sons and daughters of WW2 veterans.
We are committed believers in client confidentiality and operate a zero spam policy .
 Payments are advanced using the "Paypal service" Our buying success rate of around  90-%  suggests that our offers are amongst the very highest .
Our shipments sell in the stable European marketplace to mature collectors, academics and non political institutions.
Our accountant Edward Symonds issues pre payment in full within moments of our offers being accepted
We believe we are well placed to pay more than our  competitors when buying collections.
We have a loyal customer base one that was established even before the the internet came into being.
Our visitors seem quite comfortable paying a premium for our "guaranteed original artifacts" Items which they can view and handle in a Museum style setting.
 All products are sold with  an unconditional money back guarantee.
Thousands of  Militaria websites crop up each year usually as a result of collectors wishing to dissolve their own collections .
The online selling market is becoming more competitive .
Our store is in itself  a tourist attraction.
The more stock we acquire the better it is for us,  We frequently buy from other dealers !
If you are thinking of selling we welcome the
opportunity of providing you with the strongest itemized or group offer for your
collection or individual peice.
Best Regards David Mattey
We will better the esimates given by the following  Auctioneers
And we charge Zero Commision.
Call today 07860-747027
Anderson & Garland
Auction Atrium
Batemans Auctioneers
Bearnes Hampton & Littlewood
Bellmans Auctioneers & Valuers
Bigwood Fine Art Auctioneers Ltd.
Boulton & Cooper Ltd.
Brightwells
Brown & Co.
Charterhouse
Cheffins Fine Art Auctioneers
Chorley's
David Duggleby
Dee Atkinson & Harrison
Diamond Mills & Co.
Dreweatts 1759
Dreweatts 1759 Godalming Salerooms
Dreweatts 1759 Bristol, Clifton Salerooms
Dreweatts 1759 Tunbridge Wells Office
Dreweatts 1759 Bristol, Baynton Road Salerooms
Eighteen Eighteen Auctioneers
Ewbank Clarke Gammon Wellers
Riddetts of Bournemouth in Association with Ewbank Clarke Gammon Wellers
Fieldings Auctioneers Limited
Gavin Gardiner Limited
Halls Fine Art Auctions
Hartleys
Henry Adams Fine Art
Holloway's
Holts Auctioneers
Hy. Duke & Son
Hy. Duke & Son Grove Salerooms
Lacy Scott & Knight
Lawrence Fine ArtHolts Auctioneers
Hy. Duke & Son
Hy. Duke & Son Grove Salerooms
Lacy Scott & Knight
Lots Road Auctions
Lyon and Turnbull
Mallams Ltd.
Mallams Ltd. Cheltenham Salerooms
Mallams Ltd. Abingdon Salerooms
Mander Auctioneers
Mitchells
Morphets
Peter Francis
Peter Wilson
Piano Auctions Limited
Rosebery's
Ross's Auctioneers & Valuers
Sotheby's
Sworders Fine Art Auctioneers
Sworders Fine Art Auctioneers Sudbury Salerooms
The Canterbury Auction Galleries
Toovey's
Woolley & Wallis
Wotton Auction Rooms
Anderson Associates
Bleasdales Ltd
Christopher Stone Valuations
Coram James Ltd
Graham Paddison
Gurr-Johns
Howard Naylor
James Fletcher
Jonathan Cook
Justin J. Roberts
Michael Naxton
Omell Associates
Outhwaite & Litherland
Paul Barthaud Associates Limited
Robin Barlow