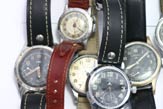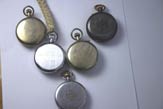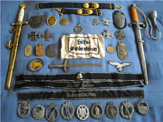 £5000 = $7500 Paid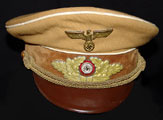 £500 = $750 Offered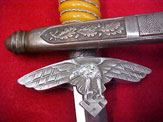 £300+ = $450+ Paid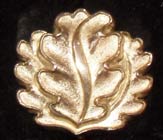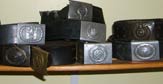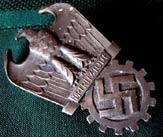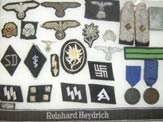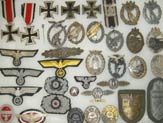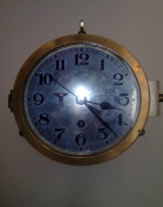 £1000 = $1500 paid
for U-boat clocks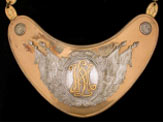 £2000 = $3000 paid for
this LAH Gorget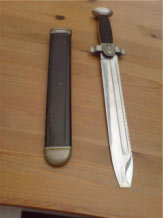 DRK Hewer
£350 = $475 Paid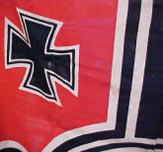 Small War Flags Wanted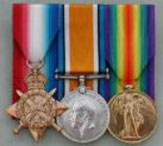 £100 = $150 paid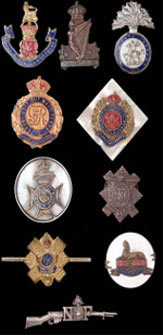 £40 = $60 paid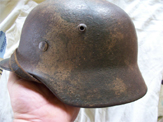 $900/£600 Paid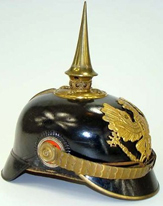 £600 / $900 Paid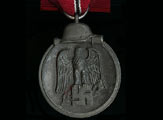 £30 / £45 Paid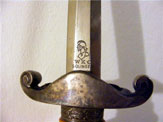 WKC ARMY £250/$425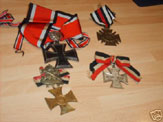 £4000/$6000 Paid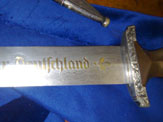 £20000/$3000 OFFERED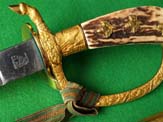 £700 / $1050 PAID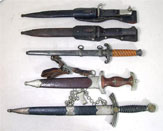 £1000 / $1500 LOT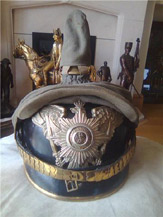 £1000 / $1500 PAID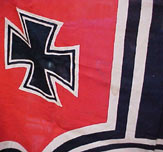 £100 /$150 PAID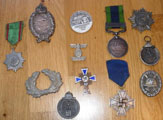 £500 / $750 PAID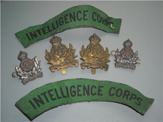 £100 /$150 PAID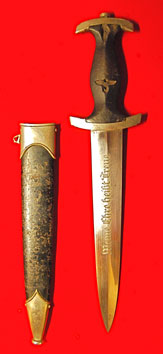 £700 /$1050 PAID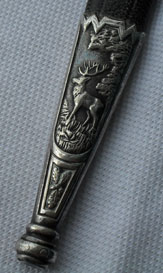 £700/$1050 PAID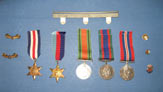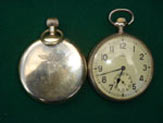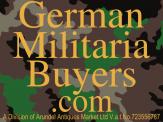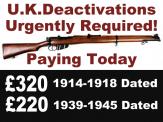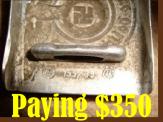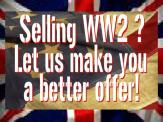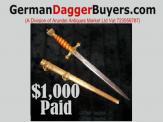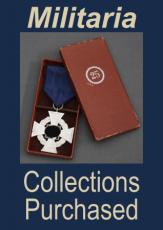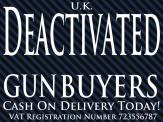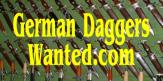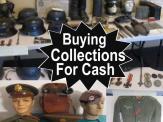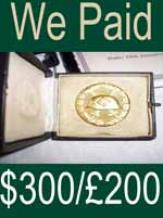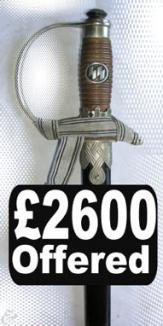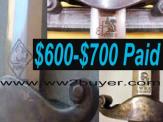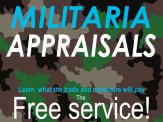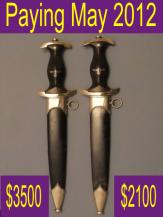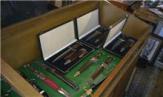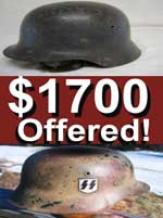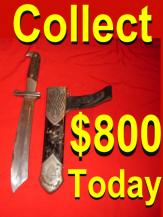 For an immediate offer or free valuation Complete the form in the next column →   →     →          →                →
Winter 2013
Welcome to our website.
Military Watches wanted is a purchasing
department of
"The Arundel Military Antiques Collection"
We are long term investors .
Sellers who contact us can expect to achieve
25-30 % above prices offered by "Virtual"
dealers.
  By selling directly to establishments such as
"The Arundel Military Antiques Collection".
You will receive a professional service
Our store is a tourist attraction.
We Issue Payments in advance.
The full money for agreed purchases will
be shown in
your "Paypal" today
if you are now ready to sell or just require
a free offer.
We invite you to email some images or a list,
together with
any questions you may have.
If you have already obtained independent
offers,
add 25-30% to the highest one to arrive at your
price.
This we will pay in total for all required items!
Yours sincerely
David Mattey (Buyer)
Military Watches Wanted.com would like the opportuinty of paying 20% above the best
dealer's offer for veteran Aquired souvinirs.
This applies to WW2 German military items.
This offer more specifically applies to all unrestored examples of German WW2
watches and many of those from other nations.
full payment is issued by MWW.com in advance to sellers from the U.S.A. Australia,
New Zealand.and Europe
.This elliminate the risks that are expected to be taken by those selling to other
advertisers.Vendors are not required to ship valuables until 100% payment is shown in their
Account.Military Watches Wanted.com is a division of the V.A.T registered Arundel Antiques
Market ltd.
Military Watches Wanted.com provide a confidential selling option for those wishing
to dispose of Watches and
other war souvenirs.
Third Reich memorabilia is banned from sale on the internet site Ebay so the selling
of German WW2 military watches
Military Watches Wanted.com only sell to a vetted circle of responsible academic
collectors and Museums.
Military Watches Wanted.com hold no sympathy with the Nazis or any other hate
groups!
We believe that the preservation of artifacts from this dark era only has validity
within an educational framework.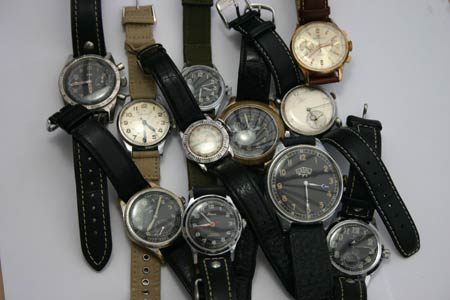 .




 















 





 







 .
Militarywatcheswanted.com's Depot and displays
are situated on the first floor.
Military Watches Wanted.com's payment policy is straightforward,you receive
full payment upon our receipt of your property.
If you have a Paypal account or bank on-line this is instantaneous
.germanbadgeswanted.com buys directly from you,
therefore you avoid letting auctioneers take a slice of the pie.
Have you any Military Watches that you are wishing to sell?
Military Watches Wanted.com
buy military watches from every nation. Would you like a
free valuation to find out what
your Military watch is worth? We are happy to be of service.
Just send us an e-mail with
a few photos of your Military Watch or other "Militaria"
and we will tell you what the current
value is and what a dealer a collector or a long term
investment group would be willing to pay you.
We buy from  hundreds of dealers and collectors worldwide
including the major advertisers on the
internet today .Because we buy Army Watches for long term
investment groups. The purchase price
is less critical for us than for on-line traders looking for a fast
return. Before you accept what you are
told is a " fair price" for your Military Watch, obtain a second
opinion, Whether selling one old army
watch or an entire collection of WW2 Military Collectibles,
mww.com would like the opportunity to
pay you the most competative price.
Military Watches Wanted.com are establishing themselves as the viable
alternative to selling at auction.
Auctioneers might take an outrageous 40%-60% of an item's value.
By selling directly to dedicated professionals you have absolute control
over the price that you accept.
With Military Watches Wanted.com you avoid the anxieties associated
with posting personal details over the internet.
Email enquiries@militarywatcheswanted.com for an offer on your military watch.
For free advice on any war souvenir, Email enquiries@militarywatcheswanted.com
Or
Telephone +44(0)7860-747027
+440190-3884602 Now!
Related Terms of artifacts from World War 2
German air force dagger, Old German dagger, WW2 Army dagger, WW2
Nazi Dagger, German scout knife, German Navy Officers Dagger, U boat,
U-Boat, Uboat, Saw back blade, Nazi Badges, My Fathers. My Grandfathers
,My Grandfather, Normandy, Eighth Army, Berlin, prisoner of war, High
Ranking, Dessert rats, Italy, Fascist Daggers, Found in the attic, Effects, Army of
occupation,
D Day Landings, Crashed aircraft, How much is it worth, Knights cross ,iron cross,
war medals, war badges, badge with a swastika ,Paratrooper,
Paratroopers , Deactivated, Flying, Belts, Documentation, Documents, Maps,
Compass, Eagle Stamped, German Writing, Adolf Hitler, Das Reich, Arm Band,
Veterans Daughter, I was Given, I am Interested in knowing the value of
,Identify these, Cash Buyers of, Baton, cased award, Cloth badges, cloth eagles,
Hitlers bunker, Africa corps,Reproduction,camouflaged,Museum,Collection, Boot
knife, WW1 spike helmet ,spiked helmet, pickelhaube, Original
German Watch Manufacturers
A.Lange & Söhne
Alexander Shorokh
Archimede (by IckAristo VoBagger & Gehring, featuring
precious cases in silver, gB. Junge & Söhne
Blancier Lotterman & Söhne
Botta
Brior
Bruno Söhnle
Bunz
Christian Klings
Chronoswiss
Churpfälzische UhrenManufactur
Costro by Peter Göttert
Damasko
Damasko US
DEFAKTO
D.Dornblüth & Sohn
Egon Hummel
Erhard Junghans
Erwin Sattler
Forum
Fricker
Garde
Genesis
Genius by Wolfgang Steinkühler (Sothis)
George J Von Burg
Germano
Glashütte Original
Graf Zeppelin (from Pointtec)
Greve-Uhrendesign
Guinand (former Chronosport by Helmut Sinn)
Hacher
Haldi
Hanhart
Heinrich Geisen
Hemess
Hentschel
Holdermann & Sohn
Jacques Etoile
JB-Gioacchino
Jochen Benzinger
Jörg Schauer
Jubilar
Joyeux
Junghans
Junkers (from Pointtec)
Kadloo
Kazimon
Kronsegler
Kudoke
Laco
Lang & Heyne
Leumas
Limes (by Ickler)
Lindburgh & Benson
LOWIN Cologne
Marcello C.
Maximilian (from Pointtec)
Mechanische Zeitinstrumente
Meer – MAR, 2010 – web site active, but Jürgen Meer says no more watches
Meistersinger
Mercure by Klaus Jakob
Montano
Moritz Grossmann
MSC uhren (M. Schneider & Co.)
Mühle Glashütte
Nauticfish
Nienaber Bünde (Rainer Nienaber)
Niessing
Thomas Ninchritz
Nivrel
Nomos Glashütte
Otium
Otto Berger
Philippe Rosen
Rainer Brand
Rainer Nienaber
Rheinmeister
Riedenschild
Schäuble & Söhne
Schaumburg
Schmeltzer 1881
Schneider Manufaktur
Sinn
Sothis
Steinhart
Stowa
Temption
Tourby Watches Hagen
Tutima
Union Glashütte
UTS
Volker Vyskocil
Wempe
Wilhelm Rieber Tourbillons
Zeppelin Uhren (from Pointtec)
ZiB Uhrenatelier ("Zeit in Berlin")Related Wanted WW2 Products
Chef des Generalstabes, Division, Durchbruckskampfe,
Einheit Einmarsch.EisenbahnErsatz Eroberung
Evangelischer Kriegspfarrer Fahrtruppen FallschirmFallschrimjäger FeldFeldausbildungseinheit Feldgendarmerie
Feldkommandantur, Feldlazarett FestungFl. Fla .Flak, Flieger Fliegerabwehr-Abteilung .
Fliegerabwehrkanone, Freiwillige, Fusilier,
Granatwerfer, Gebirge, Gefecht, Gegenstoß
Geheime Feldpolizei, Geschütz, Grabenkrieg, Grenadier, Generalkommando,
Generalstab des Heeres,
Grenze, Grenzschutz Grenzschutz, Abschnitt
Grenzewacht, Gruppe, Handelsmarine, Harko, Höherer Artillerie, Kommandeur, Heer, Heeresgruppe
[, Hilfswillige, Himmelfahrts KommandoL,
Hochgebirgs, Infanterie I, Jäger I.Jagd, Jagd-Kommando, Katholischer, Kriegspfarrer, Kavalleri
e Cavalry., Kosaken,
Kettenkrad, Kompanie, [, Kommandeur,
Kommando [, Korps, Korps, Abteilung,, Krad, (Kraft, Radfahrzeug), Kradschützen,
Kriegesgefangen,
Kriegsmarine, Kriegstagebuch, Kolonne, Küste,
Landesschützen, Landwehr, Landsturm, Legion [plural Legionen], leicht, Luftlande, Luftwaffe, Marine,
Maschinengewehr, Motorisiert Motorizied., Musketier, Ne
bel, Nachschub, Nachrichten, Nebelwerfer, Oberfeldkommandantur [, Oberbefehlshaber, Osttruppen, Pak,
Panzerabwehrkanone, Panzerabwehr,,
Panzergrenadier, Panzerjäger, Panzerzerstörer, Pionier, Radfahre, Regiment [plural, Ruckwartige
Ruckzug withdrawl., Ruckzugkampfe, Sanitäts, Schlacht, Schlachtschiffe, Schnellboot, Schutzstaffel L,
Schwadron, Schwere, Sicherung,
Sicherungseinheit, Sonderverband [., Stab [plural, Standarte [, Stellung, Stellungskampfe
Strassenbau.Sturm Assault., Sturm [plural, Sturmartillerie, Sturmbann [, Sturmgeschütz, Sturmpionier,
Teile, Tote, Toten, Totenkopf, Totenkopfverbande
Umbenannt, Unterabschnitt [, Unterkunfts, Verfolgung, Verlegt, Vernichtet, ., Verteidigung, Veterinär, Volksgrenadier, Volkssturm,
Vormarsch, Vormarschkampfe, Vormarschpfeil, Vorsto, Wach, Waffen, Waffen-S, Werwolf .Werfer.Wehrmachtsgefolge
Wirtschaft Administration., z.b.V. (, Zwischen
Military Watches Wanted.com pay cash for ALL War/Military items from All Wars and Conflicts.
Uniforms-Helmets-Daggers-Armbands-Medals-Patches
-Photos-Bags/Pouches-Equipment-Edged/ inert/Deactivated Weapons Accessories. All items wanted in any
condition from any campain
. World War I-World War II-Civil War-Revolutionary War-Spanish American War-Vietnam-Korea and More.
Items wanted from the USA and European
Others
Senior Military Leadership Decorations WANTED/PURCHASED.
Military Valor Decorations WANTED/PURCHASED.
Meritorious Military Decorations WANTED/PURCHASED.
Military Service Decorations WANTED/PURCHASED.
Arm Shields and Cuffbands WANTED/PURCHASED.
Wound Badges WANTED/PURCHASED.
War Badges WANTED/PURCHASED.
Naval War Badges WANTED/PURCHASED.
Luftwaffe Badges WANTED/PURCHASED.
Luftwaffe Flying Claspa Allach Porcelain Section WANTED/PURCHASED.
Accoutrements WANTED/PURCHASED.
Third Reich Silverware WANTED/PURCHASED.
.Armbands Army Officer Daggers
WANTED/PURCHASED.Art
Axis Daggers & Swords WANTED/PURCHASED.
Belts & Buckles WANTED/PURCHASED.
DressBayonets – Plain Bladed WANTED/PURCHASED.
Double Etched
WANTED/PURCHASED.Combat Bayonets & Fighting
WANTED/PURCHASED.Knives – ImperialCombat Bayonets & Fighting Knives WANTED/PURCHASED. – 3rd Reich Hunting Forestry & Shooting
Cutlasses WANTED/PURCHASED. – Imperial & 3rd Reich
Customs Daggers – Land & Water WANTED/PURCHASED.
Deutsches Jungvolk WANTED/PURCHASED.
(DJ)Fahrtenmesser WANTED/PURCHASED.
Fire Department Bayonets WANTED/PURCHASED.
Fire Department WANTED/PURCHASED.
Dress Axes WANTED/PURCHASED.
Flags & Cloth Items WANTED/PURCHASED.
Fire Officials Dirk WANTED/PURCHASED.
Glider Pilot Knives WANTED/PURCHASED.
– DLV WANTED/PURCHASED.
NSFKGorgets WANTED/PURCHASED.
Government Official WANTED/PURCHASED.
& DiplomaticDaggers WANTED/PURCHASED.
Helmets Headgear WANTED/PURCHASED.
rHitler Youth Knives
WANTED/PURCHASED.Hitler Youth Leader
Daggers WANTED/PURCHASED.
Insignia SectionJapanese Section
Luftwaffe Gravity WANTED/PURCHASED.
KnivesLuftwaffe Daggers – 1st Model WANTED/PURCHASED.
Early
Midperiod & Late Luftwaffe Daggers
– 2nd Model WANTED/PURCHASED.
Medals & Badges WANTED/PURCHASED.
Miniatures WANTED/PURCHASED.
Naval Daggers – 1st & 2nd WANTED/PURCHASED.
ModelNaval Dirks – Imperial & Weimar WANTED/PURCHASED.
NPEA Daggers.NationalsozialistischesKraftfahrkorps WANTED/PURCHASED.
(NSKK) Daggers WANTED/PURCHASED.
Photo WANTED/PURCHASED.
Albums WANTED/PURCHASED.
Police Bayonets – 3rd Reich WANTED/PURCHASED.
Police Bayonets -Clamshell WANTED/PURCHASED.
Weimar & 3rd Reich WANTED/PURCHASED.
Police WANTED/PURCHASED.
Water ProtectionPostal Protection Daggers WANTED/PURCHASED.
Railway Daggers WANTED/PURCHASED.
Red Cross SectionReference Books – Original Dagger Catalogs WANTED/PURCHASED.
Reference Books – OtherReference Books – Period & Out Of Print
WANTED/PURCHASED.Reichsluftschutzbund (RLB)WANTED/PURCHASED. DaggersReichsarbeitdienst
(RAD) Daggers WANTED/PURCHASED.
Sturmabteilung (SA) Daggers WANTED/PURCHASED.
Schutzstaffel (SS) Dagger SectionSS & Police Degens WANTED/PURCHASED.
SS Honor Rings & Other JewelrySS Röhm Daggers WANTED/PURCHASED.
Full Partial & Ground WANTED/PURCHASED.
Swords – Eickhorn WANTED/PURCHASED.
Field Marshall WANTED/PURCHASED.
Swords – Imperial & Weimar
WANTED/PURCHASED.Swords – Other 3rd Reich WANTED/PURCHASED.
Technische Nothilfe (TeNo)Daggers WANTED/PURCHASED.
List Of SA (Brown Daggers) Makers & Values 2012
Blade Marked HACO Berlin" "Alles fur Deutschland" $600
"Pfeilringwerk" "Alles fur Deutschland" Valuation $700
"Hugo Lindner Deltawerk" "Alles fur Deutschland" Valuation $700
"F.Dick" "Alles fur Deutschland" Valuation $500
"Wagner und Lange" "Alles fur Deutschland" Valuation $600
" C.G.Haenel Suhl" "Alles fur Deutschland" Valuation $500
Aesculap, Tuttlingen "Alles fur Deutschland" Valuation $500
Peter Altenbach u. Söhne, Schwanenwerk, "Alles fur Deutschland" Ohlings Valuation $700
Argenta G.M.B.H. "Alles fur Deutschland" Valuation $600
Axt u. Hauerfabrik "Alles fur Deutschland" Valuation $600
Walter Bahrl, Höhscheid "Alles fur Deutschland" $750
Fritz Barthelmess, Bavaria, Muggendorf "Alles fur Deutschland" Valuation $700
A. u. H. Bassat, Ohligs "Alles fur Deutschland" Valuation $700
August Bickel, Steinbach, "Alles fur Deutschland" hallenberg Valuation $500
Bismarck "Alles fur Deutschland" Valuation $700
Eduard Becker, Kolumbuswerk "Alles fur Deutschland" Valuation $600
F.W. Beckmann G.M.B.H. "Alles fur Deutschland" Valuation $700
Carl Bender "Alles fur Deutschland" Valuation $600
Edmund Bergfeld u. Sohn, Ohligs "Alles fur Deutschland" Valuation $700
Gebr. Berns "Alles fur Deutschland" Valuation $700
Hugo Berns, HUBEO, Ohligs "Alles fur Deutschland" Valuation $700
Julius Bodenstein, Steinbach, Kr. M. "Alles fur Deutschland" Valuation $600
Gebr. Böhmenachel "Alles fur Deutschland" Valuation $700
Bönthgen u. Sabin, Fussball "Alles fur Deutschland" Valuation $700
Johan Breidor, Breidora, les 3 Croix "Alles fur Deutschland" Valuation $700
F. von Brosy, Steinberg "Alles fur Deutschland" Valuation $700
Otto Busch, Weltmeister "Alles fur Deutschland" Valuation $700
Clarfeld & Co., Hemer in Westfalen "Alles fur Deutschland" Valuation $700
Deppmeyer G.m.b.H., Besteckfabrik "Alles fur Deutschland" Valuation $700
Paul F. Dick, Esslingen A.N. "Alles fur Deutschland" Valuation $600
Ernst Dirlam, Höffnungswerk "Alles fur Deutschland" Valuation $700
J. Dirlam u. Söhne "Alles fur Deutschland" Valuation $700
Albert Dorschel "Alles fur Deutschland" Valuation $700
Eickelberg u. mack "Alles fur Deutschland" Valuation $700
Englert u. Solvie G.m.b.H. "Alles fur Deutschland" Valuation $700
C.F. ErnFernando Esser u. Cie
C. Eppstein Söhne "Alles fur Deutschland" Valuation $600
A. Feist u. Cie, Lunawerk "Alles fur Deutschland" Valuation $700
Josef Feist, OMEGA "Alles fur Deutschland" Valuation $700
Flocke u. Cie "Alles fur Deutschland" Valuation $700
Giesen u. Forsthoff "Alles fur Deutschland" Valuation $700
Grah und Deppmeyer, GRADE "Alles fur Deutschland" Valuation $700
Carl Grah, Stahlwaren, Ohligs "Alles fur Deutschland" Valuation $700
Ernst Crah "Alles fur Deutschland" Valuation $700
Gebr. Grah, Odysseus Werk AG "Alles fur Deutschland" Valuation $700
Ludwig Groten, Lanze u. Fahne "Alles fur Deutschland" Valuation $700
Carl Haas, Solingen-Wald "Alles fur Deutschland" Valuation $700
Hackländer u. Bick, HABIWA "Alles fur Deutschland" Valuation $700
H. Hauptner, Berlin "Alles fur Deutschland" Valuation $700
Herder u. Sohn, Diogenes, Ohligs "Alles fur Deutschland" Valuation $700
Friedrich Herkenrath, Ben Hur, Merscheid "Alles fur Deutschland" Valuation $700
Emil Hermes, Merscheid "Alles fur Deutschland" Valuation $700
Robert Hoppe, Höhscheid "Alles fur Deutschland" Valuation $700
Jäger u. Co., Silberwarenfabrik, D. Kaiserswerth "Alles fur Deutschland" Valuation $700
Johnswerk, Bayreuth "Alles fur Deutschland" Valuation $700
R.K. "Alles fur Deutschland" Valuation $700
Emil Kaiser u. Co. "Alles fur Deutschland" Valuation $600
Kamphausen u. Plumacher, Ohligs "Alles fur Deutschland" Valuation $600
Kastor u. Co., Ohligs "Alles fur Deutschland" Valuation $600
F.A. Kirschbaum u. Co. "Alles fur Deutschland" Valuation $600
Heinrich Kaufmann u. Söhne, Indiawerk "Alles fur Deutschland" Valuation $600
Abr. Knyn, Gräfrath "Alles fur Deutschland" Valuation $600
Wilh. Kober u. Co., Suhl "Alles fur Deutschland" Valuation $500
Fr. v.d. Kohlen, Gräfrath "Alles fur Deutschland" Valuation $600
H. Kopling "Alles fur Deutschland" Valuation $600
Wilh. Krieger "Alles fur Deutschland" Valuation $600
Gebr. Krumm "Alles fur Deutschland" Valuation $600
Gebr. Krusius, Gazelle "Alles fur Deutschland" Valuation $600
Carl Fr. Kuhrt, Kommandit Gesellschaft, Zellas Mehlis "Alles fur Deutschland" Valuation $600
August "Alles fur Deutschland" Valuation $600
J. Langenberg u. Co., JULANCO "Alles fur Deutschland" Valuation $600
Louper, Flamme, SS "Alles fur Deutschland" Valuation $600
Peter Lungstrass, Ohligs "Alles fur Deutschland" Valuation $600
August Malscher Sohn, Steinbach "Alles fur Deutschland" Valuation $600
Kr. M.Marx u. Cie, G.m.b.H. "Alles fur Deutschland" Valuation $600
Melzer u. Feller, Zella Mehlis "Alles fur Deutschland" Valuation $600
Robert MiddeldorfG.m.b.H., ROMI "Alles fur Deutschland" Valuation $600
Müller u. Schmidt, Pfeilringwerk "Alles fur Deutschland" Valuation $600
Josef Münch, Brotterode "Alles fur Deutschland" Valuation $600
Neidhardt u. Schmidt, Brotterode "Alles fur Deutschland" Valuation $600
Fred Nuhaus "Alles fur Deutschland" Valuation $600
Erich Neumeyer "Alles fur Deutschland" Valuation $600
Gebr. Noelle G.m.b.H. "Alles fur Deutschland" Valuation $600
F.E.D. Ohliger "Alles fur Deutschland" Valuation $600
E.P.S. "Alles fur Deutschland" Valuation $450
Hugo Pasch, Sonnal Stahlwarenfabrik "Alles fur Deutschland" Valuation $600
Daniel Peres "Alles fur Deutschland" Valuation $600
Wilhelm Pfeiffer u. Co. "Alles fur Deutschland" Valuation $600
Pränafawerk G.m.b.H., Gräfrath "Alles fur Deutschland" Valuation $600
E. Reich, Schweina "Alles fur Deutschland" Valuation $600
J. Reuleaux "Alles fur Deutschland" Valuation $600
Rhaastert u. Bull "Alles fur Deutschland" Valuation $600
Romüso, Merscheid "Alles fur Deutschland" Valuation $600
W.O. Rusche, Merscheid "Alles fur Deutschland" Valuation $600
J.P. Sauer u. Sohn, Suhl "Alles fur Deutschland" Valuation $500
C. Schlieper "Alles fur Deutschland" Valuation $600
Eugen Schmidt, Ohligs "Alles fur Deutschland" Valuation $600
Hermann Schneider, auf der Rhone "Alles fur Deutschland" $600
Abr. Schnitter, Wasso "Alles fur Deutschland" Valuation $600
Gebr. Seibel, Hessische Metallwerke, Ziegenhain "Alles fur Deutschland" Valuation $600
W. Seibel, Mettmann "Alles fur Deutschland" Valuation $600
Spateneder, München "Alles fur Deutschland" Valuation $600
Julius Steinberger, Ohligs "Alles fur Deutschland" $600
G. u. W. Stock, Gustoc "Alles fur Deutschland" Valuation $600
Süd Messer Fabrik, Gefrees "Alles fur Deutschland" Valuation $600
Tannenwerk "Alles fur Deutschland" Valuation $600
Carl Tillmans Söhne, "Alles fur Deutschland" Lux Valuation $600
Undine "Alles fur Deutschland" Valuation $600
Eduard Vitting "Alles fur Deutschland" Valuation $600
Adolf Völker, Schalkalden "Alles fur Deutschland" Valuation $600
Wagner u. lange "Alles fur Deutschland" Valuation $600
Weck u. Stamm, Weyer "Alles fur Deutschland" Valuation $600
Wilhelm Welterbach "Alles fur Deutschland" Valuation $600
Gebr. Weyersberg, Ohligs "Alles fur Deutschland" Valuation $600
Gottfr. Weyersberg Söhne "Alles fur Deutschland" Valuation $600
H. Wilke u. Co., Remscheid "Alles fur Deutschland" Valuation $600
Arthur Wingen, Chromolit Besteckfabrik "Alles fur Deutschland" Valuation $600
Gustav Wirth, Gräfrath "Alles fur Deutschland" Valuation $600
Viele Grüße Frank "Alles fur Deutschland" Valuation $600