Welcome to German Dagger Dealers
For immediate specialist offers / (Free Valuation) simply fill out the form provided in the right hand column.   →   →   →   →   →   →  →   →
 

                                        

German Dagger Dealers.com
 The 1938 Railway Guards dagger was created for wear as part of the new Railway Guard uniform for guard officers from the rank of Oberzugfuhrerand and higher officials of the Bahnpolizei.
The dagger was designed by Paul Casburg and was manufactured by Carl Eickhorn as well as E.F. Hoster.

 Unmarked daggers exist of this Pattern.
Hilt fittings are made of aluminium with a silver anodized finish ranging from a bright finish to a dull finish. The backgrounds are finished with a dark burnishing to give the dagger a toned appearance.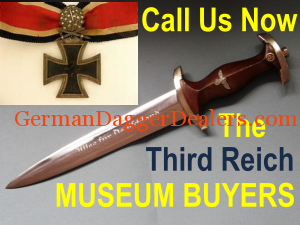 The grip is of black spiraling plastic.  The neck on the pommel 
 The cross grained polished 40-cm long, hollow ground carbon steel stiletto style plain blade  will carry the Carl Eickhorn trade mark a few will be found with unmarked blades, and some by E.F. Hoster.
The pommel and cross guard ore of anodized  polished aluminium  with the dark burnishing and clear lacquer finish; the cross guard featured the Bahnschutz insignia, a winged rail wheel, with the ends of the cross guard turning down. Note that there is an area that appears to be unfinished but this is a flaw that is found on 99.99% of all real crossguards. When raising questions of authenticity on these daggers, here is a handy guide – the cross guard on a period made dagger is 87-87.75mm across.
The pommel was spherical in shape with a raised "sunwheel" swastika at its top. On real pommels the lip is thin and sharp looking not fat and flat as some reproductions. The pommel is 24.6-24.7mm across.
A smooth scabbard had two ribbed aluminium suspension rings fitted; a small scrolled ornate feature completed the bottom of the scabbard tip. The base of early scabbards is sheet metal steel with a silver plated finish that is brushed to make it conform to the dull look of the hilt fittings. Later made scabbards are made of a low-grade aluminium and have a natural brushed finish. The throat is held in place by a single back centre placed set screw.
The hanger was a double strap unit made from a silver toned fabric with black line edges, and square plain buckles. The reverse of the hangers was affixed to deep black purple velvet backings. This colour will vary with manufacturer.
42-cm aluminum or silver bullion Portapee, interwoven with black thread in the cord and stem area, was worn with the dagger.
Production ceased in 1942 before the formation of the Bahnshutzpolizei
Our high street store is situated beside an historic
castle .
We attract thousands more receptive
visitors every
year.
Rather than sell to one of our numerous
trade
suppliers,
We invite you contact us directly
and receive a better deal.