Posted by
admin
on Oct 19, 2018 in
1933-1945
,
A BETTER PRICE FOR YOUR COLLECTION
,
Antique Blades
,
Army Daggers
,
Daggers
,
S.A.Daggers
,
Second Opinion Militaria
,
Sell Military Collections
,
Selling German Helmets
,
Selling German Swords
,
Selling Nazi Daggers In Canada
,
Selling weapons for cash
,
Selling your collection of military badges (Militaria)
,
WW2 US American Buyer
|
0 comments

WELCOME TO OUR INTERESTING PROPOSITION
In a price conscious market germandaggerdealers .com have reassuring words for the children and grandchildren of WW2 veterans .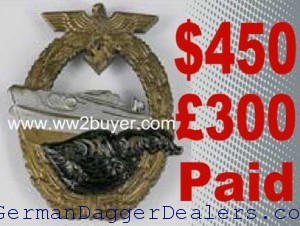 For artefacts recovered from the
battlefields of Europe by your Dad or Grandfather I will pay
50% extra in many cases .

Why? Because GDD.com have been commissioned by European Museums to acquire militaria taken home by allied servicemen to the U.S.A.

The condition of this generous offer is that a grouping of items must be acquired to the values of $500 minimum and be offered with access to period photographs and a covering letter from yourself.. Knowing that Dad's stuff might form part of a museum in Europe is good .
In circumstances such as this the story of each G.I.'S war will be recorded . So if you have a box of badges or some daggers or a steel helmet you may wish to consider selling ? If you have period photographs of your relative and any paperwork which you are comfortable selling this should add up to twice the average price for your artefacts .