Alles für Deutschland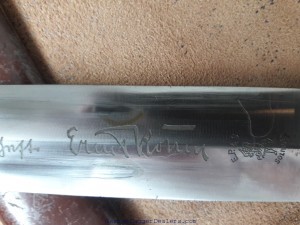 The EP&S  Model 1934 Ernst Röhm SA Dagger (Sturmabteilung Dienstdolch).
Ernst Rohm honor daggers were presented to members of the SS/SA who had either had interrupted service since December 31st 1931 or those who transferred from the Hitler Youth prior to December 31st 1931.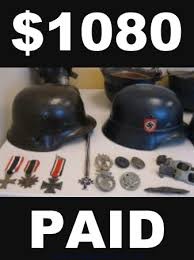 The blade on this example is in mint condition, save for mild runner marks which if they do not have we would avoid at all costs .
The acid etched "In herzlicher kameradschaft Ernst Röhm" motto is intact and is critically it is positioned correctly.   The "Alles für Deutschland"? motto and "EP&S "? maker mark are crisp and beautifully executed!
The crossgrain in pronounced and shines in the light and can be seen the full length of the blade.
The fit and tip are both perfect as well! The blade rates Exc+/Exc++. It has the commonly seen runner marks. The  Steel based, brown anodized scabbard is looks wonderful! It remains completely dent free and still holds 80% of its original factory lacquer! The ball remains perfectly round and all four screws remain intact. The solid nickel scabbard fittings look excellent. The scabbard to crossguard fit is near perfect! The reverse of the lower crossguard is stamped "Wf"?. The crossguard / grip fits are near perfect as well! All of the fittings match quite nicely in condition, color and age patina. The brown grained hardwood grip is in wonderful shape! It has the odd pressure mark but that's it! No cracks, chips or splits. The solid nickel eagle has excellent detail and a perfect fit. The SA roundel retains 100% of its enamel and also has a perfect fit! This one also comes with a nice 3 piece hanger that is in wonderful shape and works well! A great opportunity to get yourself a full Rohm.